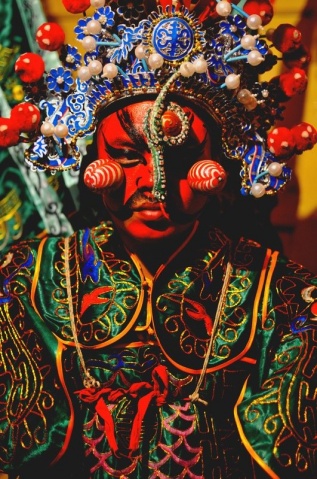 The performance of Shehuo can be traced back to ancient rituals of worshiping the earth for good harvest and fortune.
  The Shehuo performance is usually held during the Spring Festival, the Chinese lunar New Year, in Northwest China.
  Shehuo, originally a ceremony to honor gods and spirits from heaven and earth, gradually developed to a festive occasion to celebrate and pray for harvest in China's long history.
  The "She" in the name stands for God of Earth and "Huo" means fire, which ancient people believed had the magic power of driving away evil spirits.
  According to historical records, Shehuo performance can be dated back to as early as the Spring and Autumn Period (770-476 BC), and in some places, it had been incorporated with the Temple Fairs.
  In addition to its sacrificial purposes, Shehuo performance was also a mass entertainment that involved a great deal of performers and attracted lots of viewers in ancient times.
  The genres of Shehuo performance varies. The main kinds include Xinzi (standing on a wick), carrying desks, stilts, bamboo horses, a lion dance and the land boat.
  Xinzi is one of the most popular genres. Little girls and boys in traditional costumes stand on the edge of a "sword," "flower", or "tree branch". Sometimes, adult performers would lift up the desks that carried the children, which makes the performance more thrilling.
  The most eye-catching is the facial make-up used in Shehuo. It is regarded as a precious art form, demonstrating the unique artistic glamour of Northwest China.
  The facial make-up reportedly originated from primitive tattoo traditions. The tradition developed into face painting in ancient China with the purpose of driving away the demons.
  Longzhou of Shaanxi province boasts one of the most representative Shehuo art forms in China. The Shehuo facial make-up in Longzhou county is specially known for is fancy molds, bright colors and varied patterns, representing the highest level in the region.
文章来源:China Daily
【本文责编:张倩怡】